The courses are offered by international lecturers from prestigious universities and research organizations in the field of public health
EHESP, France
Columbia University, USA
University of North Carolina, USA
Indiana University-Purdue University Indianapolis, USA
Ryerson University, Canada
Institut de Recherche pour le Développement (IRD), France
INSERM, France
INRA, France
Université Descartes Paris V, France
…
Master of Public Health accreditations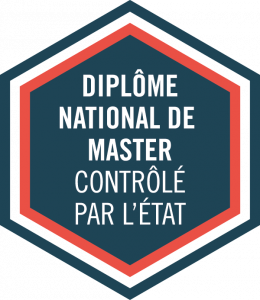 The Master of Public Health confers the internationally recognised title of Master degree.
EHESP is accredited by the French Ministry of National Education, Higher Education and Research to award the Master of Public Health (Decree of the 15th of July 2019).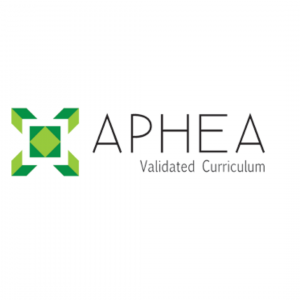 The MPH course is also validated from January 2022 for a period of 6 years by the Agency for Public Health Education Accreditation (APHEA), 1st specific accreditation system for education in public health at the European level, as part of the institutional accreditation of the School accredited by the same agency.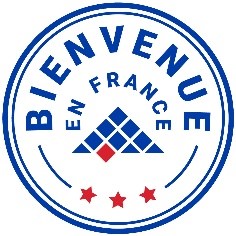 Since 4 December 2019, the EHESP School of public health has been awarded "Bienvenue en France" (Welcome to France) label with 3 stars, which rewards the quality of welcome for international students. This labelling will enable our School to continue to develop initiatives for international students as well as strengthen the attractiveness and international visibility of EHESP.
Want to learn more about this quality label ? Have a look to EHESP website !
Presentation of the "Bienvenue en France" label in video :
Course objectives
The goal of the EHESP Master of Public Health (MPH) is to train young professionals to identify the health problems of a population, analyze the resources needed to preserve and improve population health, and progressively become a new generation of decision makers in health.
To achieve this, the EHESP pedagogy stresses an inter-disciplinary approach, consisting in placing students in realistic problem contexts from which they utilize various professional skills and methodologies. The MPH encourages a degree of specialisation according to the students' career objectives.
The courses take place in Greater Paris.
Career opportunities
MPH graduates can expect a wide range of career opportunities, both nationally and internationally.
MPH Graduates develop their careers in areas as wide as government health departments, research units, universities, public health services, NGOs, international organizations or the private sector (pharmaceutical industry, consulting, healthcare organizations).
Some graduates have engaged in international or national PhD programs.
Core disciplines of public health
The MPH is based on five basic disciplines offered in the core curriculum where the interdisciplinary nature of public health issues is stressed:
social & behavior sciences in public health
management and analysis of health policies
epidemiology
information sciences and biostatistics
environmental and occupational health sciences
EHESP Academic Regulations (207 kb)
Indicators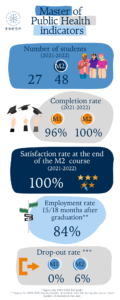 Language proficiency
Given that the course is taught in English, it is mandatory for prospective students to fulfill one of the requirements listed below:
Native language (see list of countries recognized as native speakers in the FAQ page)
Holder of a previous degree delivered by a higher education institution located in a majority native English speaking country (as listed in the FAQ page)
English language test ( as listed in the Apply page)
No minimal level of French is required.
Language classes are offered to international students who are not familiar with French and, conversely, to French-speaking students who intend to improve their proficiency in English.