Paris: a unique cultural heritage
EHESP parisian campus is located in the Greater Paris area, only 1 metro station away from Paris city, so any activity proposed by councils in Paris or Saint Denis is available to you. The Greater Paris area houses a population of 11.9 million, distributed across 8 departments; this makes it the most populated city in France.
Useful links
How to reach Paris city and EHESP campus (Plaine Saint Denis)
Ways to reach Paris city
By plane
Most travelers arrive at either Roissy Charles de Gaulle Airport, Orly Airport or Beauvais-Tillé Airport. There are many convenient ways of getting to the city center. More information on Paris convention and visitors bureau website
By train
The French capital, Paris, is very well served by trains from many European cities such as London, Brussels, Madrid, Berlin and Amsterdam, and also by national French trains. Companies available in Paris are:
More information about Parisian railway stations
By bus
There are 3 main coach stations in Paris: Bercy, Gallieni and Porte Maillot. They are served by many national and international companies, such as Eurolines and low-cost lines such as Blablabus, Megabus and Flexibus.
Bercy (metro lines: 6 and 14)
Gallieni (metro line 3)
Porte Maillot (metro line 1)
How to reach the EHESP campus (Plaine Saint Denis)
EHESP – 20 avenue George Sand – 93 210 La Plaine Saint-Denis
Tel : +33 (0)2 99 02 24 00
More information on EHESP courses places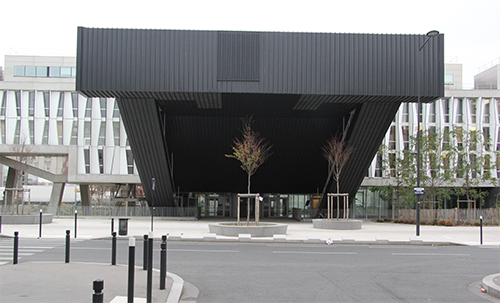 Finding somewhere to live in Paris
A few things to know before renting an apartment in Greater Paris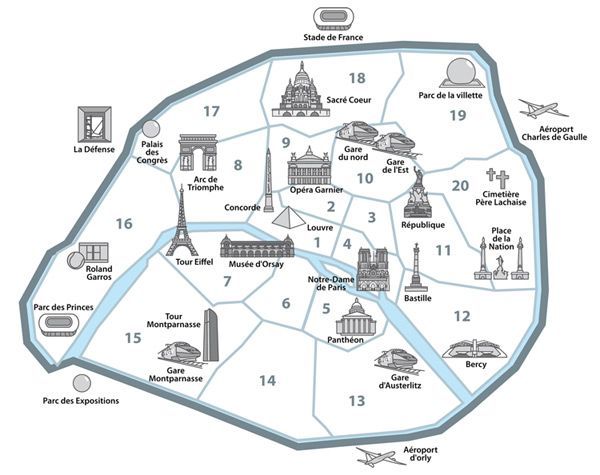 The arrondissements (or quarters) of Paris start in the middle of the town and spiral around like the shell of a snail. The Seine River divides Paris into 2 parts—rive gauche located on the southern side of the Seine and rive droite located to the north.
Distances in Paris
To give you an idea about transport times in Paris, you should allow about 45 minutes to go from the north (arrondissements 18 and 19) to the south (arrondissements 13, 14, 15) by metro. With a surface area of 105 km², Paris is 12 times smaller than New York. It's easy to cross the city walking. It extends 10 kilometers from North to South and 12 kilometers from East to West.
Guarantors
In order to rent an apartment, you are usually asked to prove that you earn 3 times the monthly rent in income, or that you have someone who can act as guarantor for you. Legally, your guarantor can be anyone living anywhere, as long as they provide the necessary documents (salary statements, proof of address, identity card, etc.). Agencies are more likely to accept international guarantors.
An alternative way to having a rental guarantor is to apply online for free to the state rental garantor Visale. It is a public rental deposit dedicated to students under 30-year-old.
See the application procedure on Campus France website
To guide you through this process, a Campus France video tutorial is available here.
Another alternative garantor is GarantMe. It is a private rental deposit dedicated to students from 18 and over 30-year-old. See application on line on https://garantme.fr/en
Another option is to set up a frozen bank account as security. Typically the account would have to contain between 6 months to 1 year's rent and remain frozen for the duration of the rental contract. Once again, approving this type of security, and even the amount of money required, is up to the landlord and this is relatively difficult to do if you need to secure an apartment while still abroad.
A few key words when it comes to rental
Louer: to rent
Chambre: a room
Prix: price
Studio/bedsit: Accommodation consisting of one room, a bathroom and WC
F1/1-room flat: Accommodation consisting of one main room plus a separate kitchen, bathroom and WC
F2/2-room flat: Accommodation consisting of two main rooms plus a separate kitchen, a bathroom and WC
Duplex: Apartment on two floors
CC (charges comprises): All charges payable by the tenant are included in the rent (water and servicing of common areas. Electricity and gas are optional)
Equipé/Equipped: Accommodation with an equipped kitchen (fridge, cooking hobs, sink)
Meublé/furnished: Accommodation including basic furniture such as a bed, table, chair, etc.
Paying a "dépôt de garantie" – Tenancy deposit
To be able to move into the property, you will be asked to pay a sum of money that is usually equivalent to a month's rent (up to two months rent for a furnished rental). This amount will be returned to you upon your departure, less the cost of any potential damage.
Living in Paris
Before coming to Paris, you can book a room in Cité Universitaire de Paris. The sooner the better!
There are many houses for different nationalities. An application has to be submitted to have access to one of proposed rooms.
If you are with low or non- income or/and belong to a low income family, the EHESP has at its disposal some rooms (chambres) in University residences, called CROUS. However, the number of those rooms being very limited, you should specify this during your registration with the EHESP and not directly with the CROUS. The CROUS residences are reserved in priority for scholarship students on social criteria. For more information, please refer to EHESP.
Studapart : Our partner for accommodation gives access to the students who registered with EHESP. Contact our Student life officer in Paris to get an access code.
The housing platform Studapart will allow you to?:
•Find a rental close to the campus
•Find your international or French roommate(s) and form shared rentals
•Find a room in a French family (ideal for the experience).
Thousands of accommodations from private owners, halls of residence, real estate agencies, or rooms in private homes, are available close to the school: http://ehesp.studapart.com/en
If you are due to arrive to Paris very soon, and you still have no place to live, instead of booking a hotel or youth hostel, you can try to book a room though the website AIRBNB for a temporary accommodation.
You could also go to the to American church, 65 Quai d'Orsay, 75007 Paris (transport: RER C Pont d'Alma) where you can find advertisements, mostly in English. It is open from Monday to Saturday, 9 am to 10 pm and on Sundays from 1 pm to 6 pm.
Useful links
In English: ads.fusac.fr (housing offers)
In French:
On-line flat sharing offers:
Please note that you can find swindles on any website. If you rent an apartment before your arrival, never send money to the owner without an official contract and every detail written about the accommodation.
Do not hesitate to contact our Student life officer in Paris if you need help or if you have any doubt.
Living expenses in Paris
As living in Paris can be quite expensive, estimating your budget is essential.
The month at the start of the new academic year is a financially difficult month as you have to pay the tenancy deposit (dépôt de garantie) to move in your accommodation.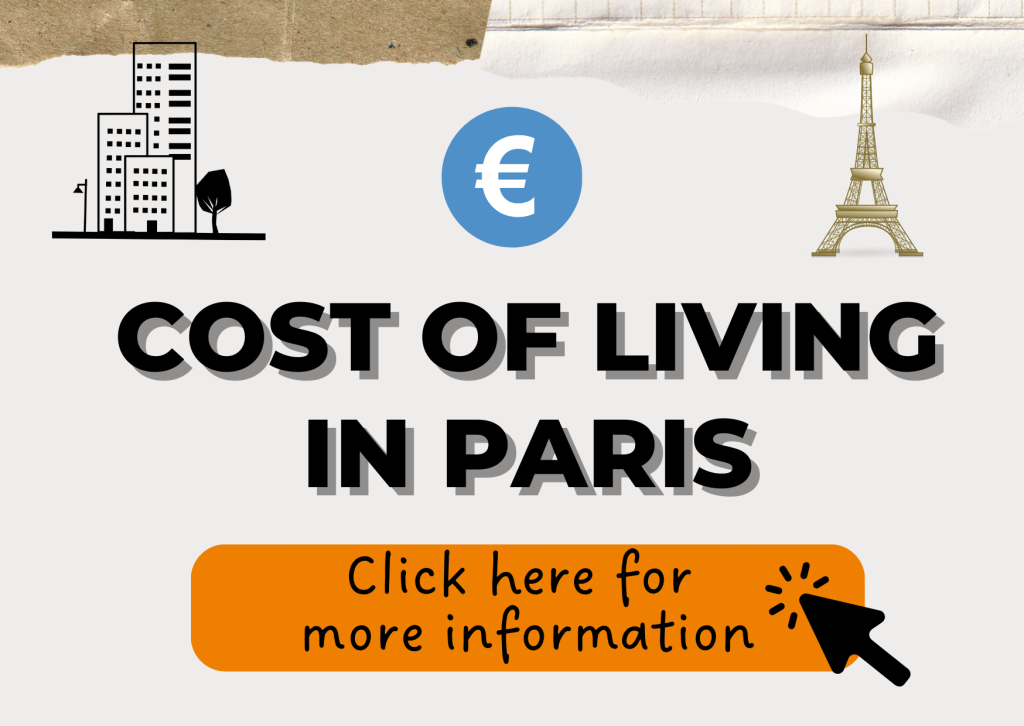 Find here the main items of expenditure to be expected in Paris which, depending on your own particular situation, you will have to deal with.
Once a year, you will also have to pay the "taxe d'habitation", council/local tax for housing.
For more information, Campus France designs a document to help you estimating your budget.
Note that to reduce some housing charges:
Housing allowance – so called CAF – is also available
Sharing a flat could reduce housing costs
Getting around Paris
Travelling around Paris is not very complicated; there are so many ways to go everywhere. To facilitate your every day journeys, we recommend you purchase a Navigo transport card. Below you will find how to purchase a monthly or annual ticket.
Practical information for visiting Paris and how to use Paris public transportation (RATP)
NAVIGO transport card
An 'all?zones' (toutes zones) pass covers Paris, surrounding suburbs and airports Charles de Gaulle and Orly. The services included are metro, RER (suburban) train and bus.
Imagine R étudiant – For students under the age of 26 on 1st ?September 2022
The pass can start on 1 September, October, November or December; it is valid for 12 months.
You should apply for your Imagine R card directly online?: https://www.imagine-r.com/
Documents required:
Proof of enrolment at the university (written in French) for the academic year 2019/2020 or a photocopy of your current student card
Photo ID ( passport' photo) covered face, neutral background, 35x41mm, not used, not scanned, not photocopied)
RIB (bank account details) for French account holders (for direct debit)
NAVIGO pass?–?For students over the age of 26 on 1st September 2022
3 Ways to get a NAVIGO pass :
Directly in one of the RATP agencies (Parisian transport),?it is the easiest and the fastest way to purchase your Navigo pass, as the agents will prepare it immediately.
The documents that you will have to provide:
– ID card
– Proof of residence in Ile-de-France (e.g. your rent contract, receipt or a current utility bill, not older than 3 months)
– RIB (bank account details) for French account holders
By Post: the application form to fill in and send to the agency is available in the train and metro stations. Be aware that it will take at least 3 weeks to receive your Navigo Pass.
Online for the annual subscription (in French)
You have until the 17th of the month to subscribe to get your Navigo pass for the next month.
Paris by bike (Velib)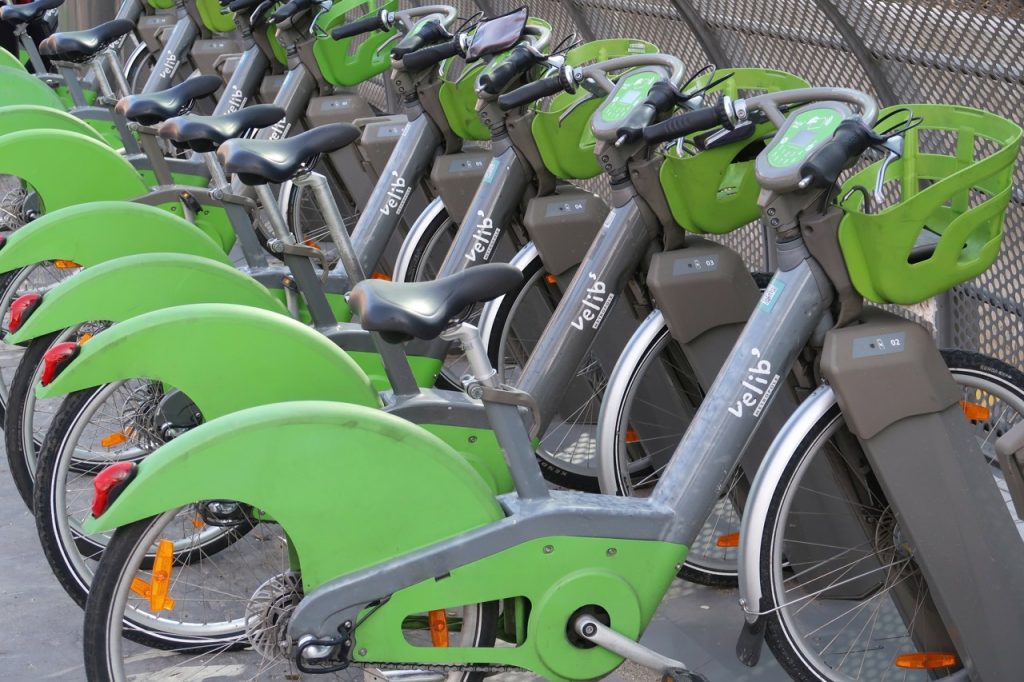 If you prefer to use a bike, Paris offers many velib' stations everywhere in the city and in the suburbs.? You can get a Velib one-year pass if you have a French bank account. If you don't, it is possible to rent the bikes for one day or one week using a foreign bank card. In this case, follow the instructions at one of the Velib stations.
Check the website for more information
Note: Some bike lanes-only exist in Paris. It is better to know the area before venturing by bicycle in Paris since there is a lot of traffic.
Velib is not the only option to bike in Paris, many fairs in Paris and around allow a student to buy his/her own bike for very cheap. Le Bon coin? is also an option when looking for bikes and equipment for bikes.
Finding a job in Paris
Tools to find a job in Paris
Some websites to find a student job
Advertisements in English
Babysitting
Work regulations for foreign students in France
You may be planning to work during your stay in France to help finance your studies. If you speak French, it will be easier for you to find a job. Work regulations for foreign students in France can vary from one position to another.
Any foreign student can work in France for up to 964 hours per year (60% of the yearly legal duration of work). Beyond that, you will need an authorisation. The rules vary depending on your nationality.
EU national: you can work
Non EU national : you will need to show your employer your student residence permit (titre de séjour) or your long-stay visa equivalent to the residence permit. Your employer must declare you to the Prefecture.
For Algerians : other rules apply. In accordance with the Franco-Algerian agreement, you must apply for a temporary work permit (autorisation provisoire de travail). You may not work more than 822.5 hours annually, i.e. 18.5 hours per week.
More information on the French administration website
Note: Students working under internship agreements do not need to apply for work permits.
Tax income
If you have lived in France for at least 6 months, you need to declare the income you received in the previous year. Declaring your income does not mean you will necessarily have to pay the income tax!
You can download the declaration form or get it in your local tax office (Service des impôts des particuliers, also called SIP). Find a list of SIPs.
After you have filled in the form, you will have to send it back to your local tax office (list available here) or, if you have already left France, to the Service des impôts des particuliers non-résidents
Healthcare
Emergency numbers
European emergency number to call in priority: 112
SAMU (Service d'Aide Médicale d'Urgence): 15
Police: 17
Fire Brigade: 18
Emergency medical service:+33 (0)1 47 07 77 77
Health centres
SIUMPPS is an interuniversity service with a multidisciplinary teams (nurses, doctors, psychologists etc…)
As EHESP's student you may access their health services.
You can make an appointment with a doctor there. Some visits are free, including for contraception, testing, vaccinations, nutrition and psychological monitoring.
Here is the leaflet of the SIUMPPS for foreign students.
CENTRE DE SANTE DES SAINTS PERES
45 RUE DES SAINTS PERES, 75006 PARIS
Moyens de transport
Métro – Saint-Germain des Prés (ligne 4)
Métro – Mabillon (ligne 10)
RER – Musee D'Orsay (ligne C)
General practitioners
If you need a list of English speaking GPs (general practitioners), please contact our Student life officer in Paris
Student social welfare services
Student social welfare services are available in various places in Paris. These professionals listen to you, give you information, help you to deal with personal, social or study matters, while respecting professional confidentiality. If you need any information, contact the following organisations:
Improving your French
If you don't speak French, don't worry about it! You will be asked to take French courses at EHESP so you will certainly improve your language skills.

What's more, Parisian council (Mairie de Paris) provide French courses from September to July. There are however some conditions:
you have to live in Paris, if you live in the suburbs your place is not guaranteed, it depends upon availability;
you must register at the end of August and sit a test (even for beginners).
Normally, these courses take place in the evening, 2 or 3 times a week. It depends on the option you choose.
You have to register at the official Paris council website.
Help registering in French courses
If you do not know how to register, you can go directly to the offices where staff will assist you.
Location: Belleville: 77 Bd de Belleville, 75011 Paris (metro station: Belleville) or Alésia: 132 rue Alésia, 75014 Paris (metro station: Alésia)
More information to learn French with the "Mairie de Paris"
Further, there are many language schools in Paris and many conversation groups (language exchange etc).
For example: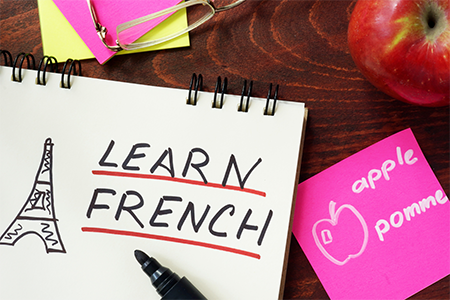 Cité Internationale de Paris proposes conversation groups for each level (you only have to send an email). A schedule is available at the beginning of the academic year.
The most famous language school is the Alliance Française, they propose free French courses but you have to be at least at A1 level. The program is called MOOC "Cours de français langue étrangère A2"
Useful information
Visit here the page dedicated to Things to know about daily life in France
Special offers (bons plans)