Traditionally, the last week of August is dedicated at welcoming a new batch of MPH students at our campus in Paris for an Introduction week.
This year's exceptional circumstances have led us to organize an entirely online welcome event. Through our learning plateform, we started creating an online learning community until we can meet in person later in the semester.
We also designed this Introduction week so that our MPH students spread over the 5 continents can attend live online sessions/meetings together regardless of their time zone.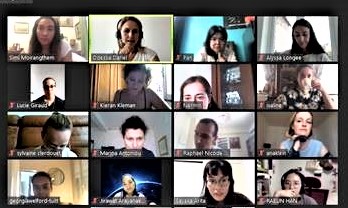 On 25 August, Dr Laurent Chambaud, Dean of EHESP and Dr Alessia Lefebure, Dean of the academic affairs proposed an online version of the annual welcome speech.
While respecting the sanitary rules, we still had the chance to meet small groups of students on campus for a welcome coffee. This convivial moment was highly appreciated. Thanks to it, we hope to build a cohesive mind among the students despite this unprecedented situation and we keep focused on continuing to provide our students with an outstanding student experience.