Dealing with administrative procedures
Administrative registration at the OFII (French Office of Immigration and Integration) – ONLY FOR NON-EUROPEAN CITIZENS
How to complete your OFII procedure?
The Cité Universitaire de Paris offers a welcome service for foreign students. This is a place where international students can undergo all the paperwork required on arrival.
To get an appointment for OFII and to validate your visa, you can go directly to Cité Universitaire de Paris, 17 Boulevard Jourdan, 75014 Paris (RER B: station Cité Universitaire) from mid-September to mid-November. Do not forget to bring all documents relative to your visa.
More information on the Cité Universitaire de Paris
Once you have received your OFII form, the OFII will send you a letter informing you of your medical appointment.  This is a compulsory part of the administrative necessary formalities.
IMPORTANT: Remember that it is compulsory to undertake these formalities within the first 3 months of your arrival in France.
More information on the OFII website
Renewal of residence permit (for 2nd year)
This procedure is for those wishing to stay at least another year in France, to fulfill the conditions required by the Prefecture of the place of residence.
Note: You cannot start your renewal process (renouvellement du titre de séjour) earlier than 2 months before your visa expiration date. This process can take up to 6 weeks.
If you do an internship abroad or go home for the summer holidays, be aware that you will have to be in France for your appointment in July or August.
You will find all the information on the Préfecture de police website and the list of documents that you will need to present.
Finding somewhere to live
A few things to know before renting an apartment in Greater Paris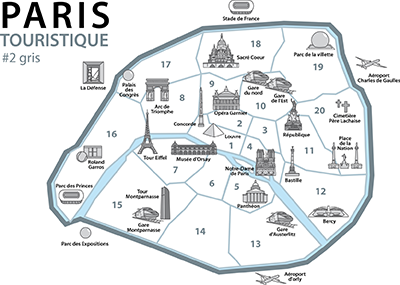 The arrondissements (or quarters) of Paris start in the middle of the town and spiral around like the shell of a snail. The Seine River divides Paris into 2 parts—rive gauche located on the southern side of the Seine and rive droite located to the north.
Distances in Paris
To give you an idea about transport times in Paris, you should allow about 45 minutes to go from the north (arrondissements 18 and 19) to the south (arrondissements 13, 14, 15) by metro. With a surface area of 105 km², Paris is 12 times smaller than New York. It's easy to cross the city walking. It extends 10 kilometers from North to South and 12 kilometers from East to West.
Guarantors
In order to rent an apartment, you are usually asked to prove that you earn 3 times the monthly rent in income, or that you have someone who can act as guarantor for you. Legally, your guarantor can be anyone living anywhere, as long as they provide the necessary documents (salary statements, proof of address, identity card, etc.). Agencies are more likely to accept international guarantors.
An alternative to having a guarantor is to set up a frozen bank account as security. Typically the account would have to contain between 6 months to 1 year's rent and remain frozen for the duration of the rental contract. Once again, approving this type of security, and even the amount of money required, is up to the landlord and this is relatively difficult to do if you need to secure an apartment while still abroad.
Another option, quiet popular among French students, is to apply for the plan "CLÉ" (Caution locative étudiante) proposed by CROUS: State insurance allowing students without a guarantor to have easier access to housing, only available for students less than 28 years old.
A few key words when it comes to rental

Louer: to rent
Chambre: a room
Prix: price
Studio/bedsit: Accommodation consisting of one room, a bathroom and WC
F1/1-room flat: Accommodation consisting of one main room plus a separate kitchen, bathroom and WC
F2/2-room flat: Accommodation consisting of two main rooms plus a separate kitchen, a bathroom and WC
Duplex: Apartment on two floors
CC (charges comprises): All charges payable by the tenant are included in the rent (water and servicing of common areas. Electricity and gas are optional)
Equipé/Equipped: Accommodation with an equipped kitchen (fridge, cooking hobs, sink)
Meublé/furnished: Accommodation including basic furniture such as a bed, table, chair, etc.
Living in Paris
Before coming to Paris, you can book a room in Cité Universitaire de Paris. The sooner the better!
There are many houses for different nationalities. An application has to be submitted to have access to one of proposed rooms.
If you are with low or non- income or/and belong to a low income family, the EHESP has at its disposal some rooms (chambres) in University residences, called CROUS. However, the number of those rooms being very limited, you should state this in your application as soon as possible. For more information, please refer to EHESP.
If you are due to arrive to Paris very soon, and you still have no place to live, instead of booking a hotel or youth hostel, you can try to book a room though the website AIRBNB for a temporary accommodation. Once you are in Paris, it will be easier to find a room or a flat to rent.
You could also go to the to American church, 65 Quai d'Orsay, 75007 Paris (transport: RER C Pont d'Alma) where you can find advertisements, mostly in English. It is open from Monday to Saturday, 9 am to 10 pm and on Sundays from 1 pm to 6 pm.
Useful links

In English: ads.fusac.fr (housing offers)

In French:

On-line flat sharing offers:
Please note that you can find swindles on any website. If you rent an apartment before your arrival, never send money to the owner without an official contract and every detail written about the accommodation.
Do not hesitate to contact our school if you need help or if you have any doubt.
Managing your money
To open a bank account in France, you will need the following documents
ID card/passport
Proof of residence: utility bill or rent receipt or contract.
If you are hosted by someone, you will need: a declaration signed by your host saying that you are hosted, your host's ID and a utility bill (less than 3 months)
Student card or proof of enrolment
Birth certificate translated into French (only if place of birth does not appear on your passport)
Note: If students are coming from the US they will need to bring a tax statement document with them to the bank.
Once you have opened an account, you will receive a RIB (Relevé d'Identité Bancaire) which shows your account details. You can ask for a cheque book (un chéquier), as this means of payment is very common in France.
IMPORTANT: Having a French bank account is required for obtaining a mobile phone contract and paying bills such as rent and electricity. You will also need to provide your RIB when applying for APL (Personalized accommodation aid from la CAF).
For more information (such as list of direct contacts), please contact our EHESP assistant in Paris.
Living expenses (your monthly budget)
This information is provided for guidance purposes only (based on 2016 prices)
Housing: 500 to 900€
Food: 80 to 250 €
Utilities (water, heat, accommodation insurance): 50 to 100€
Transport (Navigo card): 37,10€ (-26 years old on September 1st) / 70€ (+26 years old)
Internet: 20 to 30€
Phone: 2 to 30€
Note that to reduce some housing charges:
Housing allowance – so called CAF – is also available
Sharing a flat could reduce housing costs
Health insurance
In France, access to medical and health services for students, including preventive and health services, is as follows:
Health insurance coverage for students less than 28 years old on September 1st 2017
European citizens
You can benefit from the European Health Insurance Card (EHIC) – Carte européenne d'assurance maladie (CEAM). Ask your health insurance in your country and you will obtain it directly. It is issued free of charge and you will be covered in European Economic Areas and Switzerland.
Non-European citizens
You will have to register to a health insurance fund upon your arrival, during the registration day at the EHESP. The 2 main student health insurance funds are LMDE and SMEBA.
Once they have all your documents, they will send you a health insurance number that you will use for all your medical visits or treatment, in order to be reimbursed.
Health insurance coverage for students 28 years and over on September 1st 2017
European citizens
You can benefit from the European Health Insurance Card (EHIC) – Carte européenne d'assurance maladie (CEAM). Ask your health insurance in your country and you will obtain it directly. It is delivered free of charge and you will be covered in European Economic Areas and Switzerland.
Non-European citizens
You cannot benefit from the student health insurance funds. Other solutions do however exist, for example:
Universal health insurance coverage (CMU): it guarantees basic health coverage package for any person with a stable and official residence in France. You can benefit from CMU but it takes about 3 months to get it. You have to download a form available on CPAM (Assurance maladie) website. Then, the following documents will be requested:
ID + passport + visa,
Birth certificate translated into French,
RIB (bank account details),
Proof of residence (e.g. a rent receipt (quittance de loyer), from the beginning of your stay until the day you request it),
The previous year income would be required.
Then you will have to send it to the CPAM (Assurance maladie) agency close to your place of residence (list of agencies in Paris).
Advice for English speakers on the CPAM (Assurance maladie) website
While waiting for an Universal French health insurance, you may contact Private health insurance companies (e.g. April international, ACS…).
You can opt for basic insurance with a private agency for the period up until your receive your universal health insurance from CMU.
Voluntary complementary health insurance for a full coverage of health expenses
Typically, the French health insurance system reimburses on average 70% of the standard charges (e.g. physicians' visits) but may also reimburse less for certain drugs for instance. Voluntary complementary health insurance is also provided by LMDE or SMEBA. Nearly 100% of the charges are reimbursed to patients afterwards.
A patient usually pays for the General Practitioner (GP) fee (about 25€) and is then reimbursed by his or her insurance funds. Charges are usually reimbursed within 15 days. Some doctors may charge more than the standard fees. These excess charges are not reimbursed by the health insurance funds.
Even being voluntary, the complementary health insurance is highly recommended by Universities, and in particular by EHESP.
Students health insurance funds (see below) provide students with "all inclusive package": i.e. a package that may also include liability insurance (assurance responsabilité civile) on top of complementary health insurance. The liability insurance is compulsory for any student doing an internship, during the Master program.
Liability insurance is available in other insurance companies and "Mutuelles" such as SMEREP, MEP…
Useful links