EHESP parisian campus is located in the Greater Paris area, only 1 metro station away from Paris city, so any activity proposed by councils in Paris or Saint Denis is available to you. The Greater Paris area houses a population of 11.9 million, distributed across 8 departments; this makes it the most populated city in France.
Paris: a unique cultural heritage
Paris and its region boast a great many museums, the most theatres of any city in Europe as well as the greatest number of cinemas and libraries in the world. Most museums are free for European students (18-25)
City guides, plans and metro maps are available in our offices in Paris, so do not hesitate to ask for them so you can make the most of enjoy your stay.
Useful links
Finance your studies
To help you finance your studies and your daily life in Paris, you will find a number of sources of potential grants and financing offered by third-party bodies in the scholarship database of the Campus France website.
Even if you have a scholarship for the 1st year, you will have to secure your funds for the 2nd year.
This information is provided for guidance purposes only. We do not guarantee that finance will be obtained on the basis of this information.
More information on MPH website
Accomodation
It is essential to search for your accommodation several months before your arrival in France.
More details concerning accommodation may be found in the "Finding somewhere to live" section
Essential documents
A valid passport with your Long Stay Visa type "D" inside
ID card (must be valid for at least the next 6 months)
Copy of airline tickets or passport entrance stamp (this justifies your date of entry into France)
Your official university acceptance letter
Birth certificate translated into French by a sworn translator registered with the Court of Appeal. You can find the list here
Degrees / Diplomas (originals and copies)
Confirmation letters of your scholarship or bursary, if appropriate
Bank card (debit)
For European citizens: the European Health Insurance Card (EHIC) – (Carte européenne d'assurance maladie (CEAM))
Vaccination booklet or records, if available
Identity photos (at least 6)
Ways to reach Paris city
By plane
Most travelers arrive at either Roissy Charles de Gaulle Airport, Orly Airport or Beauvais-Tillé Airport. There are many convenient ways of getting to the city center. More information on Paris convention and visitors bureau website
By train
The French capital, Paris, is very well served by trains from many European cities such as London, Brussels, Madrid, Berlin and Amsterdam, and also by national French trains. Companies available in Paris are:
More information about Parisian railway stations
By bus
There are 3 main coach stations in Paris: Bercy, Gallieni and Porte Maillot. They are served by many national and international companies, such as Eurolines and low-cost lines such as Blablabus, Megabus and Flexibus.
Bercy (metro lines: 6 and 14)
Gallieni (metro line 3)
Porte Maillot (metro line 1)
How to reach the EHESP campus (Plaine Saint Denis)
EHESP – 20 avenue George Sand – 93 210 La Plaine Saint-Denis
Tel : +33 (0)2 99 02 24 00
More information on EHESP courses places
Visa formalities
If you are a citizen of a country in the European Economic Area, you do not require a residence permit (titre de séjour) or a visa. A valid identity card or passport is adequate. It must be valid for at least the next 6 months.
If you are a student of another nationality, you are required to have a long stay visa "D" and a current passport. Upon your arrival in France, you must validate your visa online on the french authorities website within 3 months at the latest: https://administration-etrangers-en-france.interieur.gouv.fr
UK students : Read more information here.
You must obtain your visa before arriving in France! All students from outside of the European Economic Area and Switzerland must obtain a student long stay visa"D" (for stays in France longer than 3 months).
Where to obtain your student long stay visa "D"?
Visas application is now booked online at the official Visa Website for France where you can also find useful information to prepare your arrival :
For students coming from other countries
To obtain a long stay visa "D", you must fill in a document at the Consulate of France (or at the visa service of the French Embassy) of your country. A list of the necessary documents will be given to you when you pick up your file. Do I need a visa ?
To guide you through this process, a Campus France video tutorial is available here.
Documents to present (other documents may also be required)
Your passport. The validity of the passport must correspond to the duration of the visa requested.
A proof of enrolment or pre-enrolment in our EHESP – School of Public Health.
A proof that you have sufficient income to live in France during your stay. The French law demands a minimum monthly income of 615 euros. If you have a scholarship, you will have to supply a certificate specifying the amount and duration of the scholarship.
A proof of residence in France.
Video tutorials
Campus France offers a collection of video tutorials for international students to facilitate their arrival in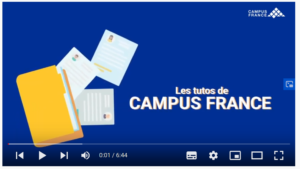 France. Available in French, English and Spanish, the tutorials present in a didactic way the steps to take to apply for Visale rental guarantee, to register to Social Security system, to open a bank account, to apply for and renew a residence permit or to pay the CVEC. View the tutorials on Youtube