Getting around Paris
Travelling around Paris is not very complicated; there are so many ways to go everywhere. To facilitate your every day journeys, we recommend you purchase a Navigo transport card. Below you will find how to purchase a monthly or annual ticket.
Practical information for visiting Paris and how to use Paris public transportation (RATP)
NAVIGO transport card
An 'all zones' (toutes zones) pass covers Paris, surrounding suburbs and airports Charles de Gaulle and Orly. The services included are metro, RER (suburban) train and bus.
Imagine R étudiant – For students under the age of 26 on 1st  September 2022
The pass can start on 1 September, October, November or December; it is valid for 12 months.
You should apply for your Imagine R card directly online : https://www.imagine-r.com/
Documents required:
Proof of enrolment at the university (written in French) for the academic year 2019/2020 or a photocopy of your current student card
Photo ID ( passport' photo) covered face, neutral background, 35x41mm, not used, not scanned, not photocopied)
RIB (bank account details) for French account holders (for direct debit)
NAVIGO pass – For students over the age of 26 on 1st September 2022
3 Ways to get a NAVIGO pass :
Directly in one of the RATP agencies (Parisian transport), it is the easiest and the fastest way to purchase your Navigo pass, as the agents will prepare it immediately.
The documents that you will have to provide:
– ID card
– Proof of residence in Ile-de-France (e.g. your rent contract, receipt or a current utility bill, not older than 3 months)
– RIB (bank account details) for French account holders
By Post: the application form to fill in and send to the agency is available in the train and metro stations. Be aware that it will take at least 3 weeks to receive your Navigo Pass.
You have until the 17th of the month to subscribe to get your Navigo pass for the next month.
Paris by bike (Velib)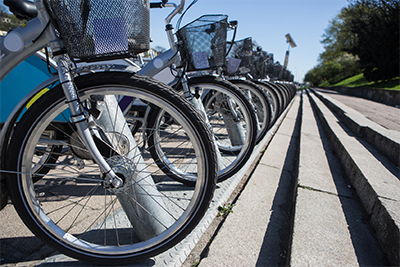 If you prefer to use a bike, Paris offers many velib' stations everywhere in the city and in the suburbs.  You can get a Velib one-year pass if you have a French bank account. If you don't, it is possible to rent the bikes for one day or one week using a foreign bank card. In this case, follow the instructions at one of the Velib stations.
Check the website for more information
Note: Some bike lanes-only exist in Paris. It is better to know the area before venturing by bicycle in Paris since there is a lot of traffic.
Velib is not the only option to bike in Paris, many fairs in Paris and around allow a student to buy his/her own bike for very cheap. Le Bon coin  is also an option when looking for bikes and equipment for bikes.
Improving your French
If you don't speak French, don't worry about it! You will be asked to take French courses at EHESP so you will certainly improve your language skills.
What's more, Parisian council (Mairie de Paris) provide French courses from September to July. There are however some conditions:
you have to live in Paris, if you live in the suburbs your place is not guaranteed, it depends upon availability;
you must register at the end of August and sit a test (even for beginners).
Normally, these courses take place in the evening, 2 or 3 times a week. It depends on the option you choose.
You have to register at the official Paris council website.
Help registering in French courses
If you do not know how to register, you can go directly to the offices where staff will assist you.
Location: Belleville: 77 Bd de Belleville, 75011 Paris (metro station: Belleville) or Alésia : 132 rue Alésia, 75014 Paris (metro station : Alésia)
More information to learn French with the "Mairie de Paris"
Further, there are many language schools in Paris and many conversation groups (language exchange etc).
For example:
Health care
Health centres
SIUMPPS is an interuniversity service with a multidisciplinary teams (nurses, doctors, psychologists etc…)
As EHESP's student you may access their health services.
You can make an appointment with a doctor there. Some visits are free, including for contraception, testing, vaccinations, nutrition and psychological monitoring.
Here is the leaflet of the SIUMPPS for foreign students.
CENTRE DE SANTE DES SAINTS PERES
45 RUE DES SAINTS PERES, 75006 PARIS
Moyens de transport
Métro – Saint-Germain des Prés (ligne 4)
Métro – Mabillon (ligne 10)
RER – Musee D'Orsay (ligne C)
General practitioners
If you need a list of English speaking GPs (general practitioners), please contact our Student life officer in Paris
Student social welfare services
Student social welfare services are available in various places in Paris. These professionals listen to you, give you information, help you to deal with personal, social or study matters, while respecting professional confidentiality. If you need any information, contact the following organisations:
Finding a job
Work regulations for foreign students in France
You may be planning to work during your stay in France to help finance your studies. If you speak French, it will be easier for you to find a job. Work regulations for foreign students in France can vary from one position to another.
European students
You can work in France for up to 964 hours per year (60% of the yearly legal duration of work)
Algerian students
In accordance with the Franco-Algerian agreement, you must apply for a temporary work permit (autorisation provisoire de travail) from the relevant service for foreign workers (main-d'œuvre étrangère) of DIRECCTE. If you change employer, you will have to apply for a new work permit. You may not work more than 822.5 hours annually, i.e. 18.5 hours per week. 
Other students
To work in France, you will need to show your employer your student residence permit (titre de séjour) or your long-stay visa equivalent to the residence permit. As a foreign student (citizen of a non-EU country), you may not work more than 964 hours annually, i.e. 20.5 hours per week. 
More information on the French administration website
Note: Students working under internship agreements do not need to apply for work permits.
Tax income
If you have lived in France for at least 6 months, you need to declare the income you received in the previous year. Declaring your income does not mean you will necessarily have to pay the income tax!
You can download the declaration form or get it in your local tax office (Service des impôts des particuliers, also called SIP). Find a list of SIPs.
After you have filled in the form, you will have to send it back to your local tax office (list available here) or, if you have already left France, to the Service des impôts des particuliers non-résidents.
Some websites to find a student job
Advertisements in English
Babysitting
Useful information
French Post Office (La Poste)
If you need to send a postcard or a letter, you can post it in one of the many yellow post boxes located in the streets, or in post offices. Post offices are generally open from Monday to Friday, from 8 am to 7 pm and on Saturday morning until 12 am. They are closed on Sundays and public holidays.
Stamps can be purchased at 'La Poste' offices, online or in a newsagency (tabac presse).
The closest post office to the EHESP building is located about 10 minutes away on foot: La Poste St Denis La Plaine – 154 B avenue du Président Wilson – 93210 La Plaine St Denis
Special offers (bons plans)
Daylight savings
From the last Sunday in March to the last Sunday in October, the time in France changes from UTC + 1 hour to UTC + 2 hours. The French media will announce the change of time.
The weather
In general, France has a temperate climate, with regional variations. The average maximum temperature in Paris in September is 24 °C and the average minimum temperature is 15 °C. In January, it is 10 °C and the average low is 0 °C.  Pack accordingly!
Bank holidays (Jours fériés)
1 January (New Year's Day)
Easter Monday, in March or April, (resurrection of Christ)
1 May (Labour Day)
8 May (end of the Second World War)
Ascension Thursday in May (Ascension of Christ)
14 July (National holiday)
15 August (Assumption)
1 November (All Saints Day)
11 November (1918 Armistice)
25 December (Christmas)
On these days, government offices and banks are closed. Museums and monuments are mostly closed on January 1st, May 1st and December 25th.
Emergency numbers
European emergency number to call in priority: 112
SAMU (Service d'Aide Médicale d'Urgence): 15
Police: 17
Fire Brigade: 18
Emergency medical service: +33 (0)1 47 07 77 77