Last update : 3 September 2021
I am a foreign student, and I have been vaccinated outside the EU with a vaccine recognised in the EU, what should I do ?
You will find the useful information on "France Diplomatie" website to help you if you are a foreign student who has been vaccinated outside the EU with a vaccine recognized in the EU.
You have been vaccinated outside the EU with a vaccine recognized in the EU and wish to apply for a French COVID certificate ?
Also, the Campus France Agency provides you with a FAQ section where you will find answers to most questions about the Covid-19 pandemic in France and how it impacts your studies and stay in France.
Last update : 7 June 2021
Since 31 January 2021, new procedures apply to travellers wishing to enter France. They are different depending on the country of origin.
You can find all the useful information on the website of the French Ministry of Interior which will be updated regularly.
We strongly encourage our incoming and current MPH students to visit this website and check whether it affects their specific situation.
Last update : 6 November 2020
In order to fight against the spread of the Covid-19 epidemic, which has been increasing rapidly in the last few weeks, the French President announced, on 28 October 2020, a new lockdown of the French population until at least 1st December, 2020.
As of 2 November, 2020, EHESP students benefit from exclusively distance learning conditions. The pedagogical modalities remain specified and implemented by the courses heads, who keep the students regularly informed.
A Health guideline, which is updated according to health developments, includes the measures in use on both campuses of the EHESP. It is accessible to all students via the REAL platform.
Last update : 14 September
Since mid-August, EHESP's staff has resumed a professional activity on site in compliance with the health instructions in force.
Wearing a mask is now mandatory in all institutions of higher education. Students and staff will have to respect this measure throughout the University, inside and outside, in addition to respecting barrier gestures and physical distancing measures.
The Master of Public Health programme will be delivered online until mid-October 2020. Online Introduction week has been organised at the end of August. Meanwhile, MPH students can meet to work in small groups, in a room at their convenience or at the campus library which is open to the public.
Welcome message from the Dean : Laurent Chambaud
Our top priority is always the health and safety of students and staff. We're closely following the latest advice and guidance issued by the French authorities. We will continue to take all appropriate and necessary steps, as required by government officials, to keep our community safe.
We want to reassure you that we are doing all we can to plan for all possible circumstances, and as the situation changes we will keep you updated with any further action you may need to take.
Covid-19 Epidemic – EHESP : the expertise of a leading school of public health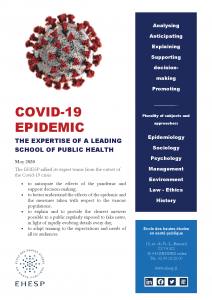 The EHESP rallied its expert teams from the outset of the Covid-19 crisis:
•to anticipate the effects of the pandemic and support decision-making;
•to better understand the effects of the epidemic and the measures taken with respect to the various populations;
•to explain and to provide the clearest answers possible to a public regularly exposed to fake news, in light of rapidly evolving details every day;
•to adapt training to the expectations and needs of all its audiences.
In order to share this contribution to health crisis management in the fields of research and training, the EHESP School of Public Health now provides its audiences and partners with an information bulletin which lists its main actions and interventions related to Covid-19.
Read the report on EHESP's website.
Last update : 15 June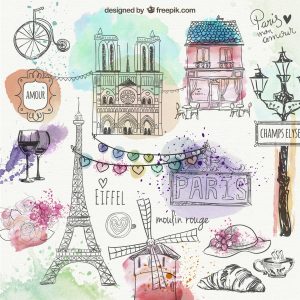 On 12 June, Mr Jean-Yves Le Drian, Minister for Europe and Foreign Affairs Mr Christophe Castaner, Minister for the Interior announced that France will gradually open its external borders.
As of 15 June, people from countries in the European area will therefore be able to enter French territory without restrictions linked to the fight against VIDOC-19. On a reciprocal basis, however, restrictions will continue to apply at the borders with Spain and the United Kingdom.
As of 1st July, France will gradually open its Schengen external borders. International students will be allowed to come to France, whatever their country of origin, and the arrangements for receiving them will be made easier. Their applications for visas and residence permits will be given priority.
Press release (in French)
14 March update
In his speech on Monday, April 13 2020, President Emmanuel Macron announced that the current lockdown would be extended until May 11. Although this date could be further postponed depending on epidemiological developments in the country, we are now preparing for a progressive ending of the lockdown.
President Macron also announced a gradual reopening from 11 May of schools, nurseries, middle schools and high schools, which have been closed since 16 March, but Universities will remain closed until summer.
The borders with non-European countries "will remain closed until further notice".
To prospective students and selected candidates
We understand that you may have concerns about the ongoing coronavirus outbreak. Please be reassured that the health and wellbeing of our students is our absolute priority and EHESP is working on preparing contingency plans to manage any precautions we all may have to take as the situation evolves.
We will continue to issue any further advice and guidance as it becomes available, so we encourage everyone to read the information contained here carefully and regularly, and to follow the instructions given.
Visa questions
Consulates are authorized since August 18 to issue visas for international students and researchers for long or short stays. Depending on the country, the procedures to be followed to enter French territory are different.
Information regarding the specific instructions depending on the world area you are coming from is regurlarly updated on the Campus France website.
If you are currently in France with on a long-stay student visa serving as a residency permit (VLS-TS), with an expiration date of between 16 March and 15 June 2020, your VLS-TS will be automatically extended for six months. 
Holders of these extended documents are invited to download the document "General information on the extension of residency documents" available on The official website of the French Ministry of Interior and present them together with their expired document in order to assert their continued rights or to facilitate border crossing.
You can also see the FAQ on the France Diplomacy website.
ASPHER Statement on the Novel Coronavirus Disease (COVID-19) Outbreak Emergency
Laurent Chambaud, Dean of EHESP School of Public Health, has signed The Association of Schools of Public Health in the European Region – ASPHER Statement on the Novel Coronavirus Disease (COVID-19) Outbreak Emergency. This statement calls all countries to strengthen the World Health Organization (WHO) and the European Centre for Disease Prevention and Control (ECDC) recommendations, and to recognize the key role of public health in the fight against the COVID-19 pandemic crisis.